3 Things NOT To Do If You Want To Save Your Marriage
You just found out your spouse wants out of your marriage.
You love your spouse. You don't want the marriage to end.
WHAT SHOULD YOU DO?!
Before knowing the 3 things you should do to save your marriage, it's very important to understand 3 key things you should NOT do if you are to have any hope for salvaging your marriage.
Unfortunately, most people do one or more of these three and put their marriage into greater jeopardy. It's extremely important to know what they are, understand why they cause more problems, and why you should not do them…or stop doing them.
In this program, Dr. Joe Beam and his special guest, relationship expert Jim Pourteau, discuss three key things to avoid. They explain what they are, why people do them, and why they have greater negative effect than positive.
If you love your spouse but s/he does or says any of the following:
– wants out of your marriage
– says s/he no longer loves you…or that s/he never did
– is involved with someone else
– claims s/he just wants to be alone
– is cold and distant
– seems like a different person
– is harsh and angry
Then you need to hear this program…AND the next podcast in the series "3 Things To Do If You Want to Save Your Marriage."
ALSO SEE: Sexual Rejection's Effect On A Marriage
ALSO SEE: How To Stop A Sexless Marriage
Recommended Reading: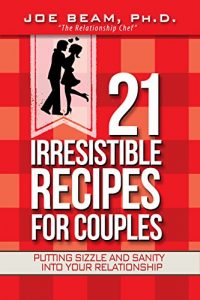 Put Sizzle and Sanity in Your Marriage!
21 Irresistible Recipes for Couples is exactly what you're looking for, if …
* You and your spouse have a great marriage but desire to grow even closer;
* You and your spouse are struggling and need help recapturing the "magic";
* You have never been married and want to know the key success factors for a "forever" relationship;
* You have been married and want to better understand where things went wrong so you can prepare for a new future with love and commit;
* You have a friend or family member who has a struggling marriage and you want to offer them a fast-paced, easy-to-read book with marriage helps.
Wherever you are in your relationship right now, let Dr. Joe Beam offer you spiritual and practical insights help you have your best marriage ever. BUY NOW | Other Books