Getting Over A Lover
You were "madly in love" but now it's over. At least it seems to be over. Whether you ended it or the other person did, you continue to struggle with intense emotions. Why are they still there? How long will they last? How can you get past them? How can you get over your lover? When will you stop hurting? Love, Sex, & Relationship expert Joe Beam answers these questions with real life stories as well as the latest scientific findings.
Recommended Reading: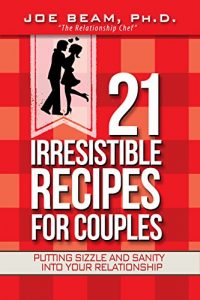 Put Sizzle and Sanity in Your Marriage!
21 Irresistible Recipes for Couples is exactly what you're looking for, if …
* You and your spouse have a great marriage but desire to grow even closer;
* You and your spouse are struggling and need help recapturing the "magic";
* You have never been married and want to know the key success factors for a "forever" relationship;
* You have been married and want to better understand where things went wrong so you can prepare for a new future with love and commit;
* You have a friend or family member who has a struggling marriage and you want to offer them a fast-paced, easy-to-read book with marriage helps.
Wherever you are in your relationship right now, let Dr. Joe Beam offer you spiritual and practical insights help you have your best marriage ever. BUY NOW | Other Books