How to Reconnect After a Major Relationship Problem – The Dr. Joe Show
Not every relationship or marriage has a major meltdown…
But when it happens, how do you put things back together?
How do you get past the hurt? The broken trust? The fear that something else is coming…especially when one partner developed a deep emotional relationship with someone else, but has decided to try to make your relationship work again…
How does the straying partner get over the emotional connection with that other person?
How can s/he learn to love you again…and you learn to love him/her again with the security that your relationship will last a lifetime?
There are things to do when reconciling a relationship. There are things NOT to do. There are also "gray" areas where you have to use your wisdom. (Knowing the right principles helps tremendously with this.)
In this program Dr. Joe Beam explains why relationships fail and how they can be put back together again. He explains the principles of reconciliation and the specific do's and don'ts that can make or break the process. He addresses both the straying spouse and the standing spouse.
Call during the live broadcast if you wish to ask questions or make comments. (Please make your questions or comments about this subject…but Dr. Beam will take other relationship questions as well.) Call 646-378-0424 during the program to listen via your phone. If you wish to speak to Dr. Beam press 1 when you hear the menu. Of course you can listen via your computer or tablet below:
Joe's NEW Book: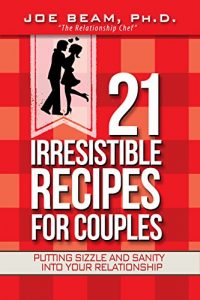 Put Sizzle and Sanity in Your Marriage!
21 Irresistible Recipes for Couples is exactly what you're looking for, if …
* You and your spouse have a great marriage but desire to grow even closer;
* You and your spouse are struggling and need help recapturing the "magic";
* You have never been married and want to know the key success factors for a "forever" relationship;
* You have been married and want to better understand where things went wrong so you can prepare for a new future with love and commit;
* You have a friend or family member who has a struggling marriage and you want to offer them a fast-paced, easy-to-read book with marriage helps.
Wherever you are in your relationship right now, let Dr. Joe Beam offer you spiritual and practical insights help you have your best marriage ever. BUY NOW