Patrick Dempsey: Saving My Marriage Took Hard Work and 'Lots of Sex'
The star of Bridget Jones's Baby shares the relationship lessons he's learned.
Even McDreamy has faced his share of relationship problems. In a recent interview featured on the new streaming channel PEN: People/Entertainment Weekly Network, Patrick Dempsey opened up about his marriage struggles.
In January 2015, Dempsey's wife, makeup artist Jillian, filed for divorce. But the actor, who stars in Bridget Jones's Baby (in theaters tonight), told People he wasn't ready to throw in the towel, and the two have since reconciled. (They celebrated their 17th wedding anniversary this summer.) "You've got to keep at it, you've got to communicate, and stay open," Dempsey said. "Don't get lazy, I think that's key. And to not give up."
That's not all, though—in addition to hard work and commitment, Dempsey mentioned one other factor that has helped the couple heal: "Lots of sex!"
But just how much sex are we talking here? Is there some magic frequency required to keep a relationship healthy?
A study published last year in Social Psychological and Personality Science found that couples who have sex once a week are happiest.
"Our research suggests that couples do not need to aim to engage in sex as frequently as possible but instead aim to maintain a connection with their partner," lead author Amy Muise, a postdoctoral fellow at the University of Toronto Mississauga, told HealthDay.
That said, more frequent sex didn't appear to have negative consequences; it just wasn't linked to greater well-being on average. full story
ALSO SEE: 15 Tips To Better Sex
ALSO SEE: How I Saved My Marriage
ALSO SEE: How To Fix A Marriage
Recommended Reading: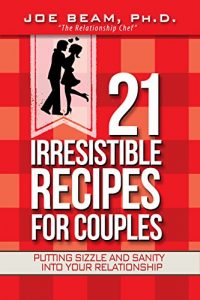 Put Sizzle and Sanity in Your Marriage!
21 Irresistible Recipes for Couples is exactly what you're looking for, if …
* You and your spouse have a great marriage but desire to grow even closer;
* You and your spouse are struggling and need help recapturing the "magic";
* You have never been married and want to know the key success factors for a "forever" relationship;
* You have been married and want to better understand where things went wrong so you can prepare for a new future with love and commit;
* You have a friend or family member who has a struggling marriage and you want to offer them a fast-paced, easy-to-read book with marriage helps.
Wherever you are in your relationship right now, let Dr. Joe Beam offer you spiritual and practical insights help you have your best marriage ever. BUY NOW | Other Books