3 Keys to Have a Great Holiday in a Broken Home
Married? Separated? Divorced? This podcast is ESSENTIAL for getting through the holidays without going crazy.
Justin Prince, program director of What About Me (a site for children and parents experiencing divorce), joins us to reveal THREE KEY THINGS to do to avoid having a stressful, terrible holiday season filled with fighting, disagreements and hurt feelings.
This is especially crucial if you have kids…and even more crucial if you are separated or divorced.
You'll be surprised at just how easy it is to implement these three steps to have a better holiday season.
Recommended Reading: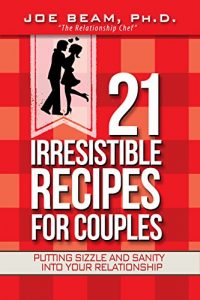 Put Sizzle and Sanity in Your Marriage!
21 Irresistible Recipes for Couples is exactly what you're looking for, if …
* You and your spouse have a great marriage but desire to grow even closer;
* You and your spouse are struggling and need help recapturing the "magic";
* You have never been married and want to know the key success factors for a "forever" relationship;
* You have been married and want to better understand where things went wrong so you can prepare for a new future with love and commit;
* You have a friend or family member who has a struggling marriage and you want to offer them a fast-paced, easy-to-read book with marriage helps.
Wherever you are in your relationship right now, let Dr. Joe Beam offer you spiritual and practical insights help you have your best marriage ever. BUY NOW