Burger King Putting Sex Toys in 'Adult' Meals for Valentine's Day
While most of us might agree that a Valentine's Day date at a fast food joint is kind of the worst thing ever, Burger King is prepared to fight that stigma. This year, the Israeli version of the OG chain is offering a romantic boxed food for two called the Adults Meal—designed for those 18 and older, so bring your ID—that comes with two Whoppers, two packets of fries, two beers, and a "romantic adult toy." Spoiler alert: That means sex toy.
"Kids' meal? That's for kids," the commercial's narrator seductively declares, before informing us that "Burger King presents the Adults Meal, with an adult toy inside. Only on Valentine's Day." The deal will only be available at BK locations in Israel on Feb. 14, from 6 p.m. until closing.
Based on the commercial ad agency Leo Burnett Israel released, the adult toy options are more gimmicky than risque, and include a lacy blindfold, a tiny feather duster, and … a head massager? Hey, we won't judge the people out there with scalp fetishes. But we're hoping the blindfold comes wrapped in plastic, because putting a grease-soaked mask on your face can't be good for those sebaceous filaments you've been trying to beat.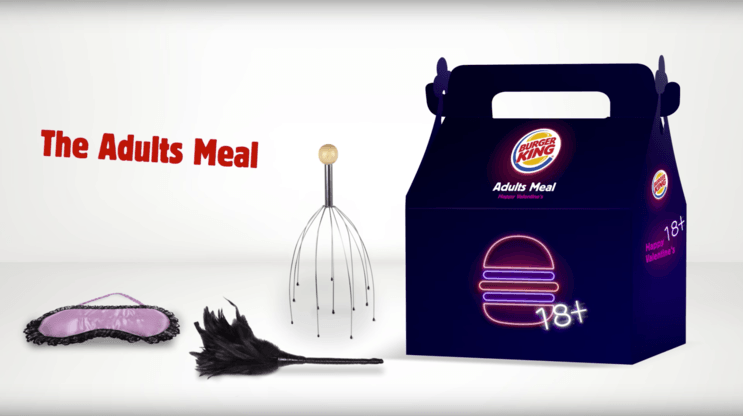 Can't get to Israel but still want your share of the fast-food approach to love? French Burger King locations are offering a Valentine's Cup for two features a lid with two holes for bendy straws, so you and your loved one can share a drink without spillage. Now that's romance!
No word on whether American locations plan to step up their love game, but until we hear, we suggest you check out the commercial for Burger King Israel's Adults Meals below.
source
Talk about a Happy Meal! Oh wait, that's another chain!
Recommended Reading: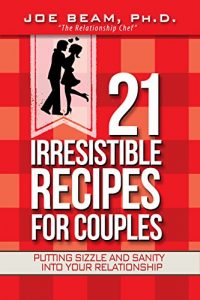 Put Sizzle and Sanity in Your Marriage!
21 Irresistible Recipes for Couples is exactly what you're looking for, if …
* You and your spouse have a great marriage but desire to grow even closer;
* You and your spouse are struggling and need help recapturing the "magic";
* You have never been married and want to know the key success factors for a "forever" relationship;
* You have been married and want to better understand where things went wrong so you can prepare for a new future with love and commit;
* You have a friend or family member who has a struggling marriage and you want to offer them a fast-paced, easy-to-read book with marriage helps.
Wherever you are in your relationship right now, let Dr. Joe Beam offer you spiritual and practical insights help you have your best marriage ever. BUY NOW | Other Books