Grilled Cheese Lovers Have More Sex, Study Says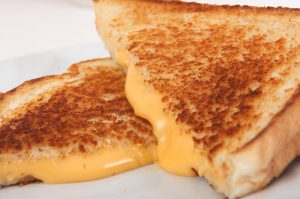 Here's yet another reason to love grilled cheese: Fans of the ooey, gooey sandwiches have more sex, a new study has found.
Thirty-two percent of grilled cheese fans have sex at least six times a month, versus 27 percent of those who don't like the sandwich, according to the dating and social-networking site Skout, which released the findings before National Grilled Cheese Day on Sunday.
Also, 73 percent of those who said they like the sandwich had sex at least once each month, compared with the 63 percent of those non-grilled cheesers.
Getting to what's really important, the survey found that U.S. eaters favored American cheese most by 41 percent, followed by cheddar (33 percent), mozzarella (10 percent), Swiss (8 percent), provolone (6 percent) and brie (2 percent). Full Story.
What are you having for dinner tonight?