Should I Put Up With This From My Spouse?
Several crucial questions have come in about how to deal with spouses doing destructive things. In this program, we will deal with questions such as:
What do I do if my spouse keeps lying? Are all lies the same? Do I react to all of them the same way? Should I set traps to catch him / her in the lies?
How do I know s/he's telling the truth now? S/he claims that all lies are over but I have my doubts.
What do I do if my cheating spouse is lying to my kids about what's going on with us? Do I tell them the truth?
My mate still lives at home though s/he is involved emotionally with someone else. I'm trying to save the marriage and s/he tells me that if I'll just be patient and let this run its course, everything will be fine? Am I a fool to believe that? Is s/he using me? What do I do?
I think my spouse is going through mid-life crisis. S/he is moody, depressed, doesn't communicate. How do I deal with this?
My mate says if I stop talking about our problems s/he will stay but if I keep bringing things up, s/he's out of here. Yet I can't live with things like they are. Do I shut up? Do I press for answers?
When is it time to give an ultimatum? How do I know when it's time to press things or if I'm better off to give a little more space?
Dr. Joe Beam will answer these and any other questions that you wish to call live during the program at (646) 378-0424. It will be a lively and informative conversation with real people dealing with real problems.
Suggested Reading: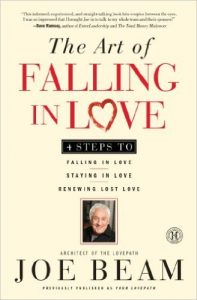 This book describes, in a way you won't find anywhere else, what love is, how to find it, how to keep from losing it, and how to get it back if you've already lost it. Insightful, revealing, and practical, yet full of gentle humor, this book leads you through the process that will keep you in love for the rest of your life. BUY NOW