How To Have Great Sex In Marriage – The Joe Beam Show
Would you like to have more sex that is more fulfilling, more exciting, and more pleasurable for both of you?
Some married couples have great sex. Some have good sex. Some bad sex. Some have little to no sex. Which are you?
In this program Joe Beam shares with you scientific research about how to make your sex life great…IF you are willing to do what it takes to make that happen!
Also, Joe will answer your questions about sex, including problems with sex… Physical problems, relationship problems, and addition problems, desires problems, and more.
You may not want to listen to this one with the kids around. It won't be offensive, but Joe tells it like it is. If anatomical terms turn you off, or if you get antsy when someone talks boldly and plainly about sex, skip this program and wait for our next relationship program. If you want great sex and are ready to be the lover that will elicit great lovemaking from your spouse, this program is for you.
ALSO SEE: E-Book, "How To Stop A Sexless Marriage."
Recommended Reading: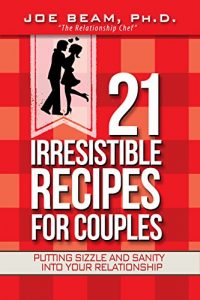 Put Sizzle and Sanity in Your Marriage!
21 Irresistible Recipes for Couples is exactly what you're looking for, if …
* You and your spouse have a great marriage but desire to grow even closer;
* You and your spouse are struggling and need help recapturing the "magic";
* You have never been married and want to know the key success factors for a "forever" relationship;
* You have been married and want to better understand where things went wrong so you can prepare for a new future with love and commit;
* You have a friend or family member who has a struggling marriage and you want to offer them a fast-paced, easy-to-read book with marriage helps.
Wherever you are in your relationship right now, let Dr. Joe Beam offer you spiritual and practical insights help you have your best marriage ever. BUY NOW | Other Books