When Marriage Counseling Doesn't Work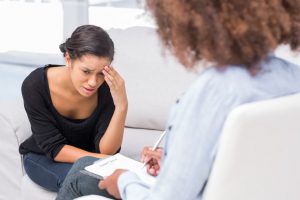 Good marriage counselors are worth their weight in gold.
There are thousands of well-trained individuals out there who work for the couple and not for one individual and who work with ethics in mind—these counselors help both parties with their individual and combined goals in order to help the couple move forward — whatever that may look like.
Many people have great success when seeking out professional help for their marital issues; however, there are also those that have had negative experiences that result in unwanted outcomes and/or ceasing professional help altogether. 
Let's say that you and your spouse are both willing to seek help from a marriage counselor in order to gain insight into what is troubling the marriage and also to learn techniques and strategies that you both can use when times get tough.
How do you choose a counselor?
What should you look for in one?
And what do you do when you feel like things aren't going well in your sessions?
Choosing the Right Marriage Counselor
Ask for recommendations or go online and search for marriage counselors in your area.

Check to see if the counselor you are wanting to see takes insurance—some do and many do not, but some will use a sliding scale based on income and what you can contribute.

Check out their website or professional page to see what their background, experience, and counseling philosophy is. 

Set up a "consultation" or interview over the phone to get a better sense if that person will be a good fit for you and your spouse. Be sure that the counselor knows that your goal is to save/improve your marriage.
Now that you have chosen the marital counselor you would like to use, there are a few things you should be aware of going into your first session if you have never gone to any sort of couples counseling in the past.
When people go to a marriage counselor, the very first session will entail both parties completing paperwork and questionnaires.
Typically, the counselor will see each spouse separately to hear what they have to say and get an understanding of what their goals will be.
Next, the counselor will meet the couple together and get a sense of how they interact together, their communication style, etc. 
In Order for Marriage Counseling to Work…
There needs to be a connection between the counselor and the couple.

The counselor should not be biased and/or take a side.

The couple should not go into counseling thinking the counselor will magically change your spouse.

The individual or couple's belief should not be that going to counseling is the last stop to save the marriage. 

Both couples need to want to be there and want to save the marriage—it is unlikely that forcing someone into counseling will fix things.

The counselor should not lead an individual or couple to believe a certain thing and should never offer advice—if the client takes advice from a counselor and things fail, then it becomes a messy situation. 

The counselor should be leading individuals and couples to come up with their own solutions in order to reach their counseling goals. 

The counselor should refer the couple to someone else if they feel as if they cannot help the couple—this is

not

to say that the counselor believes the marriage is doomed—there can be various reasons why clients and counselors are not a good fit or a counselor might not have the skill set to assist the counsel, and the ethical way to go about this would be for the counselor to refer out to someone else. 
There is often a stigma surrounding entering marital counseling; many people are afraid of being judged or of having a dark shadow hovering over their marriage.
It is sometimes scary to admit things are at the point in the marriage  of needing to seek out help.
If a couple goes into their counseling sessions with an agreement to work as a team, to have an open heart and mind, to take down their defensive walls and become vulnerable, and to leave behind any negativity (if it arises) in the session, then marital counseling can be very successful.
Of course not everyone is perfect—there are unprofessional or inexperienced counselors that may actually make things worse.
If you get going with your sessions and realize that your counselor is not a good fit for what your goals are, it may benefit you to search out a different counselor.
You could be honest with the current one and ask them for a referral, or you could even seek out an alternative to traditional marital counseling. 
There are online marriage courses available (you may or may not have these in your area) where marriage coaches can work with you and your spouse along with other couples.
There are also marriage workshops.
For many, this is a more comfortable option and people often don't feel so on-the-spot like they may in a traditional counseling session.
The environment can be more conducive to learning and there is a sense of community.
In a group, it may be easier to absorb the information and there is something special and powerful about being around others you and your spouse can relate to.
Aside from marriage workshops, there may be (sometimes free) support groups in your area…it's worth a Google search. 
Nevertheless, do not feel hopeless.
If you are seeking professional help for your marital struggles, there are various options out there for you and your spouse.
An effective alternative to counseling is marriage coaching, which is more about helping you achieve your relationship goals.
It may take some time to investigate and find a good fit, but there are counselors and coaches all over that can support you and your marital goals. 
–Coach Lee
SUBSCRIBE On YouTube | Instagram | Facebook | Twitter | Newsletter