Why Won't God Answer Prayers for My Marriage?
Be sure to watch the video above all the way before reading the article below on prayer and getting your spouse to work on your marriage or even on getting them back.
Are Prayers For Your Marriage Being Heard?
Your children pour out their hearts.
Yet, your marriage continues to spiral downward.
Someone on TV tells you that if only you have enough faith, God will do whatever you ask (then s/he asks you for a check to prove your faith).
Well-meaning friends tell you that God is faithful if only you will continue to be…that He will bring about healing for your marriage…and that you should not doubt.
However, time passes, your prayers change from petition to aggravation.
Why isn't God listening?
Why isn't He doing what you ask?
As one lady recently said, "I'm done with God. I've given Him plenty of opportunity to change my husband and He's done nothing."
Can God answer prayers about marriage? Does He? Does He care about your pain?
Will He intervene in the messy situations of life in which we find ourselves?
Will He change your husband or wife so that they stop doing the things hurting you, your children, your marriage…and even to themselves?
Is God there?
Why Isn't God Answering Prayers For My Marriage?
Prayer is mysterious.
You may pray and get the answer you want and you may pray and end up waiting and waiting, wondering where God is and why you are not being answered in the way you expected to be.
Some of us, at some point in our lives, have felt confused by God's answer or have even felt abandoned by Him.
Is He ignoring us? Has He left us?
Or maybe He actually answered our prayer in His own way, even if that way is not what we wanted.
God knows what we need in our lives; he hears all prayers and answers them in His time.
It is good to remember that God is not a magic genie.
You will not always receive an immediate answer and it will not always be perfectly presented to you in a pretty little package all wrapped up with a bow on top.
God knows exactly what you need.
So what happens when you believe God isn't answering your prayers about your marriage and you begin to feel hopeless?
There are three main things to know and things that you can do to be able to feel more hopeful.
Know how to determine if the enemy is trying to create a barrier between you and God.

Know

how

to pray.

Know about some issues you may encounter and how to deal with them.
First, know that the enemy, Satan, has only one goal: to separate you from God.
Satan does not want you to have a relationship with God, to communicate to God through prayer, or to put all of your trust and faith in God.
He wants to hinder all of those things, causing a rift between you and that relationship.
If you give up hope, Satan will continue to work his way in and create static between you and God; when there is static, you may not be able to fully hear Him or feel His presence.
When you do not hear, you may perceive that as God abandoning you in your time of need; but He did not.
Next, knowing how to pray is essential.
When you pray, completely pour your heart out to God, instilling all of your trust in Him.
Do not overthink things.
Prayer should not be complicated or technical; it should not be a time of solitude either, because you are with God during this special time.
Be vulnerable and entirely turn over your specific thoughts and worries to Him.
Lastly, understanding that God answers prayers in His own time, which is the right time, can be difficult.
This is especially true when you have a sense of urgency about what is going on in your life and want an answer to your prayer ASAP.
As time passes, your prayers may change from petition to aggravation.
Not putting trust in God is going to put a barrier between you and Him.
You may ask yourself, "Why isn't God listening?"
Or "Why isn't He doing what I have asked him to do?"
Remember, He knows what is best for your life and will answer your prayers at an appropriate time.
Scripture on Faith in Prayer
Matthew 21:21-22 says, And Jesus answered and said to them, "Truly I say to you, if you have faith and do not doubt, you will not only do what was done to the fig tree, but even if you say to this mountain, 'Be taken up and cast into the sea,' it will happen. And all things you ask in prayer, believing, you will receive."
1 John 5:14 says, "This is the confidence we have in approaching God: that if we ask anything according to His will, he hears us."
Mark 11:14 says, "Therefore I tell you, whatever you ask for in prayer, believe that you have received it, and it will be yours."
Surrender yourself to God and remain faithful.
If you continue to pray and the marital relationship continues to decline, then God's will may be to separate and/or divorce, especially if you have done all that you can do and your spouse is not willing to help the marriage.
A message for those who have given up hope or are about to:
Stay with the Lord and it will be worth it in the end!
Think about the future, no matter what the outcome of your marriage may be.
How will you feel if you completely abandon God and don't have Him in your life any longer.
Have faith that he is listening to your prayers and that he has a plan for you and your marriage.
Suggested Reading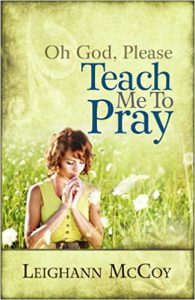 by Leighann McCoy
Readers of these books will learn to approach God in honesty through prayer, how to hear His voice through scripture, and be encouraged by examples from the Bible so that she can deal with her own "voices." BUY NOW | other books