Medical Test To Determine If You're In Love Or 'Faking It'
The painless, non-invasive procedure will enable doctors to accurately determine whether a patient is truly smitten or "faking it."
A medical test to determine the biological evidence for being "in true love" will be available in Britain within a decade, says one of the world's leading neurologists.
The painless, non-invasive procedure will enable doctors to accurately determine whether a patient is truly smitten or "faking it".
It will work by detecting the presence of potent 'love' chemicals in the brain using an MRI-type scanner.
The chemicals, called nonapeptides, are only produced in significant quantities when a person is truly in love, researchers now believe.
At present, the procedure for measuring the volume of nonapeptides in the brain can be done only in living laboratory animals.
But advances in medical technology means a test on the brains of people could become a reality by 2028, Dr Fred Nour, a renowned US doctor, claims.
Unlike lie detectors and other existing devices, such a scanner could not be duped and would boast an accuracy rate of between 97 and 99 per cent.
Dr Nour estimates that at least two-in-three people who undergo the procedure, which would confirm within a few hours whether they are truly in love, will do so for fun or as a romantic gesture.
But the remainder are likely to be the rich and famous who want to protect their fortunes from "fakers and gold diggers" ahead of tying the knot.
A pre-marital scan may even become a necessary – and legally admissible – element of a pre-nuptial agreement. full story
Commentary: One concern might be that the chemicals such a scan would measure would be produced during limerence or, the honeymoon phase. Over time, such chemical production decreases even in very loving and normal relationships. It's not because the couple is not in love, it's because the newness has worn off and the members of the couple are able to see flaws in the other person. They no longer romanticize this person as perfect or angelic. Real life begins and the intensity of passion from the new days of the relationship diminishes. A new kind of love, based on commitment takes over. So this test might show different results for couples who've been married for several years versus couples who are in a new relationship. This test appears to be measuring limerence and not, necessarily, love.
Recommended Reading: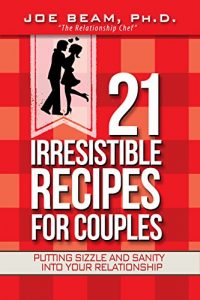 Put Sizzle and Sanity in Your Marriage!
21 Irresistible Recipes for Couples is exactly what you're looking for, if …
* You and your spouse have a great marriage but desire to grow even closer;
* You and your spouse are struggling and need help recapturing the "magic";
* You have never been married and want to know the key success factors for a "forever" relationship;
* You have been married and want to better understand where things went wrong so you can prepare for a new future with love and commit;
* You have a friend or family member who has a struggling marriage and you want to offer them a fast-paced, easy-to-read book with marriage helps.
Wherever you are in your relationship right now, let Dr. Joe Beam offer you spiritual and practical insights help you have your best marriage ever. BUY NOW | Other Books