9 Physical Side Effects of NOT Having Regular Sex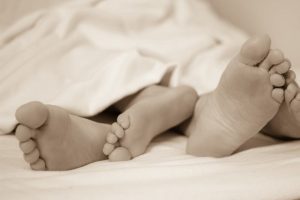 We make time for lots of things in our lives – chores, working out, coffee with a friend, keeping up with our favorite shows, reading, working, walking the dog, and all kinds of other things that are crammed into our busy schedules. But do we "make time" for sex? Should we prioritize this event with the person we are married to? Are there consequences from not having enough sex? MarriageRadio.com often mentions the positives of regular sex with our marriage partner. Those positives/benefits include feelings of closeness, feelings of commitment, appreciation, love, connection, increased physical attraction and the list goes on quite a bit.
But in this post we are going to discuss some of the side effects of NOT having regular sex. What exactly are these negative effects of not having sex? Let us count the ways:
1. Not having sex at least three times a week doubles your risk of heart attack. [*Source]
2. Not having sex several times a week damages your sense of smell. [*Source]
3. Men who don't have sex at least once a week double their chances of developing erectile dysfunction.[*Source]
4. Sex reduces pain, both chronic and acute. Endorphins released during sex alleviate all kinds of pain including migraines, PMS cramping, and even arthritis. [*Source] Sex is one of the best natural painkillers there is.
5. Women who don't have regular sex develop looser vaginas. [*Source] You thought it was women who had a lot of sex who got looser vaginas? Wrong! Lack of sex makes the vaginal muscles relax, resulting in a looser vagina.
6. People who don't have regular sex get sick more often (colds, flu, etc.) because they lack the antibodies sex creates, particularly immunoglobulin A, which drops by 30% when people have sex less than once or twice week. [*Source] [*Source]
7. Women who don't have regular sex are more likely to experience lubrication issues when they hit menopause. [*Source]
8. A man's semen is a natural, powerful antidepressant for women. Women who have a man orgasm inside of them on a regular basis are less subject to depression and suicide than other women. [*Source] [*Source]
9. Lack of sex reduces testosterone in men and both testosterone and estrogen in women, [*Source] which introduces all kinds of long-term health and lifestyle problems. It also further reduces the desire for sex.
Do you have time for regular sex? Is it worth scheduling like other important things in life? Perhaps the better question is, what are the consequences if you don't?
ALSO SEE: E-Book, "How To Stop A Sexless Marriage."