Does Divorce Hurt Children?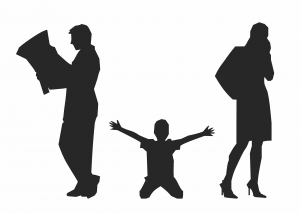 Children need their parents—this is part of their physical, developmental, and social/emotional well-being.
Parents have a responsibility to take care of their children in those ways and to teach them about life so that their children will grow up to be healthy and productive members of society.
Sometimes things do not always go as planned in a marriage and for whatever reason a temporary break or even divorce is necessary.
Even if both spouses tried their best to save the marriage and to stay together, children often blame themselves for the split and can have deep-seated issues because of it.
One of the greatest fears of any child is losing a parent.
Not just to death, but by the family splitting up.
There are multiple negative effects divorce can have on a child.
In What Ways Can Divorce Hurt Children?
Divorce does not always damage children; however, when it does, it can have lasting effects into adulthood. Here are ways splitting up can affect children and later on, those children as adults:
Academic struggles
Social struggles
Mental health issues
Increase in illness
Lack of self-esteem
Feelings of abandonment
Psychological distress
Increased risk of poverty
Increased risk for drug/alcohol use
Increased risk for early sexual activity
Relationship issues
More likely to divorce
Let's look at a scenario:
Greg's father was not involved growing up and neither of his parents showed any sort of connection or love in front of him.
At the time, Greg spent a lot of time by himself and didn't have many friends.
Now as an adult, he is having relationship issues and trouble connecting with his own children.
He also has difficulty expressing his emotions, which stems back to his mother, who was often bitter because she didn't get enough affection from her own husband, Greg's father.
Greg has been trying to show his own family more affection since he knows how it affected him to not receive that growing up.
Regardless of what he does, Greg feels like an outsider in his own family.
He is now accepting responsibility and trying to do something so that he can fix the relationship.
He knows his children love him and he just wants to live a happy life with his entire family.
The way Greg's parents interacted with each other and with him when he was a child significantly affected not only his childhood but also his adulthood.
By continuing the vicious cycle of maladaptive behaviors with his own children and wife, he is hurting them and may even be planting the seed for his children to continue the cycle when they become adults.
If Greg does not find a way to get help and communicate with his wife, he is risking divorce and hurting his children even more.
Ways to Help Children Who Hurt from a Divorce
Help them to verbalize what they are thinking and feeling
Make sure they have a safe person to talk to about their feelings
Acknowledge and validate their feelings
Teach them coping skills
Check in often and ask what they need from you
For younger children, play therapy can help them to express themselves
Seek out support groups or camps for children of divorce
Keep yourself healthy—seek out therapy if needed
Be honest with your child; do not keep secrets
Ensure your children they are not to blame
Help build their self-esteem, which might be hurt from the divorce
Avoid speaking negatively about your spouse in front of them
If you are a child of divorce, it doesn't matter if your parents went through that divorce when you were literally a child or as an adult—you will still have particular feelings surrounding it.
Divorce can leave a hardened heart and emotional distress that may not go away for quite some time.
Learning coping skills and realizing that you do not want to perpetuate the cycle of unhappy relationships and divorce, will help you to live a healthy and happy life and be in positive relationships.
I have a free mini-course on saving a mariage and I sincerely hope that you will get it and apply what it teaches!
Sincerely,
Coach Lee
---
ALSO SEE: I Hate My Husband
ALSO SEE: I Hate My Wife